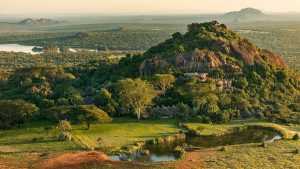 Vast savannahs peppered with immense herds of wildlife. Snow-capped equatorial mountains. Traditional peoples who bring soul and colour to the earth. Kenya is the land of the Masai Mara, of wildebeest and zebras, endangered species like black rhinos and home to the red elephants of Tsavo, to Amboseli elephant families in the shadow of Mt Kilimanjaro and to the massed millions of pink flamingos stepping daintily through lake shallows. Kenya is a country of epic sights, and here are some places to visit.
Lake Nakuru National Park:  Lake Nakuru is among Kenya's finest national parks. Flanked by rocky escarpments, pockets of acacia forest and at least one waterfall, the park is gorgeous year-round and is home to both black and white rhinos, lions, leopards, hippos and endangered Rothschild's giraffes. Rising water levels in 2014 forced the park's famous flamingos to flee (although a small number had returned at the time of research), and the lake is now hauntingly surrounded by drowned trees.
Mount Kenya National Park: Mount Kenya stands a magnificent 5199m (17,057 feet) above sea level, dominating the view for miles around. It is the second highest mountain in Africa, next to Mount Kilimanjaro, and was formed hundreds of years ago by a series of volcanic eruptions. Gradually, the cratered rim has eroded, forming several peaks. Mount Kenya National Park is located between Kenya's other safari parks – Aberdare, Samburu and Meru National Park.
Of Mount Kenya's three main peaks, only Point Lenana can be climbed by amateurs on a mountain climbing safari. The other two peaks require full mountaineering skills and technical equipment.
The mountain supports rainforest, with thick clumps of bamboo growing above the forest. Higher up the slopes, it becomes moorland with heather and lobelia. A tarmac road runs around the base of Mount Kenya and there are several towns situated along the road, including Naro Moru, Nanyuki and Meru.
African animals, including elephants, buffalo, Colobus and other monkeys, Cape buffalo, antelope and giant forest hogs, inhabit the lower forests. They are contained within the national park by electrified fences. The birdlife is also very prolific, including huge eagles and colorful sunbirds. A spotter's guide may be useful for identifying the animals and birds.
Lamu: Lamu Town seems almost ethereal as you approach it from the water, with the shopfronts and mosques creeping out from behind a forest of dhow masts. Up close, the illusion shatters and the town becomes a hive of activity – from the busy waterfront, with heavy carts wheeled to and fro, to the pungent labyrinth of donkey-wide alleyways, along which women whisper by in full-length bui-bui (black cover-all worn by some Islamic women outside the home) and stray cats hunt for scraps. This is considered the oldest living town in East Africa, a Unesco World Heritage Site and arguably the most complete Swahili town in existence.
Malindi Marine National Park: Malindi, located on the East Coast of Kenya, is a popular tourist town with scenic beauty, clean white beaches and a lot of history. It is claimed to be oldest Marine Park in Africa.
From swimming with zebra fish to windsurfing, this beautiful slice of Kenya's Indian Ocean coastline is provides the perfect getaway. The park is endowed with magnificent resources such as fringing reefs, coral gardens in the lagoons, sea grass beds, mangroves, mudflats, marine mammals, turtles and various species of shorebirds. Visitors can also enjoy glass bottom boat rides, snorkeling, camping and beach walks in this veritable paradise.
Lake Turkana: Lake Turkana in Kenya's remote northern frontier is a massive inland sea, the largest desert lake in the world. This single body of water is over 250km long, which is longer than the Kenyan coast in its entirety. It is widely known as the Jade Sea because of the remarkable, almost incandescent, color of its waters.  The Lake is a source of life for some of Kenya's most remote tribes. The Turkana, with ancestral ties to Uganda, live a semi-nomadic existence around the lake. The country's smallest tribe, the El Molo, live a hunter-gatherer existence on the shores, in villages of distinctive rounded reed huts.
Masai Mara National Reserve:  The location of the 'Great Migration' – one of the natural wonders of the world –is a gloriously beautiful, wildlife-rich savannah landscape. It's also a region where traditionally dressed Maasai still herd their cattle and goats in a lifestyle that in some respects hasn't changed much since they first arrived here 350 years ago.
On the short-grass savannahs of the Mara River basin, between the Loita Hills in the east and the Oloololo Escarpment in the west, hundreds of big-maned lions, large numbers of cheetah and leopards, spotted hyenas and jackals, some 1,500 elephants, tens of thousands of antelope of more than a dozen species from the tiny dik-dik to the huge eland, Thomson's and Grant's gazelles, herds of buffalo, Maasai giraffe, and migratory Burchell's zebras and wildebeest in their hundreds of thousands make the region a magnet for safaris of every stripe.
Read Today's News TODAY...

on our

Telegram Channel

click here to join and receive all the latest updates

t.me/thetimeskuwait