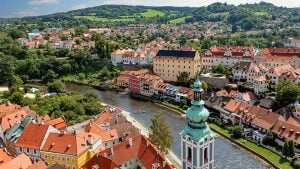 The Czech Republic's beauty could easily be enjoyed for a lifetime. In fact, many people come to the city and decide to make Prague their home. However, for most who visit, a few days will have to suffice. While the entirety of this charming city cannot be covered in a few simple days, there is much that can be seen.
Prague: For those who have never been to Prague, an absolute must-see is the Prague Castle. By many accounts, Prague Castle is the largest castle area in the world. Its three courtyards and a number of magnificent buildings cover more than 18 acres, so be prepared to see a lot and do a considerable amount of walking. Charles Bridge is also a sight that every visitor to the city should see. Charles Bridge is a stone Gothic bridge that connects the Old Town and Lesser Town. It was actually called the Stone Bridge during its first several centuries of existence. Its construction was commissioned by Czech King and Holy Roman Emperor Charles IV and began in 1357.
The rich artistic heritage of Prague and the Czech Republic can be admired in Prague's many museums and galleries. The numerous expositions of the National Gallery, Municipal Gallery, National Museum, and other institutions contain extensive collections of art of all styles and eras, ranging from fine art to sculpture, and spanning over two millenniums.
Spas: Czechia's three most famous spa towns are located in the region of Bohemia, set along the country's western edge. Karlovy Vary, Marianske Lázně, and Frantiskovy Lázně — also known as Carlsbad, Marienbad, and Franzenbad respectively — each still boast the ornate architecture and regal charm of their 18th to early 20th century heydays, and also still offer the authentic water treatments that had the elite of those times flocking to Bohemia.
Today, many doctors still prescribe the area's carbonated waters as treatment for everything from sinus and joint problems to obesity, digestive tract issue, infertility, and even gum disease; note that the unique mineral content of each town's water makes them effective for different ailments, so patients are typically prescribed a visit to a specific town.
While relaxing massages and other standard spa services can be enjoyed at these spas, these doctor-overseen services favor long-lasting health results over pampering, and are often more 'traditional' (read 'clinical') over luxurious. For those seeking wellness, however, the results speak for themselves.
Kutná Hora: At first glance, Kutná Hora seems like a quiet Central Bohemian town like any other. However, it is one of the most visited destinations in the country and a unique highlight of the Czech Republic.  On a daily basis, hundreds of people flock to see the Sedlec Ossuary –  a Baroque chapel made entirely of human bones. Between 40,000 to 70,000 skeletal human remains are held in this macabre monument of death.
Apart from the ossuary, the city is famous for the Gothic St. Barbara's Church, the superb Cathedral of the Assumption of Our Lady and Saint John the Baptist and the charming old town.
Once a competitor in wealth to Prague, Kutná Hora is famous for its silver mines and the Czech Museum of Silver provides a closer look at this as well as the chance to descend into the actual silver mine which is a part of the museum.
Český Krumlov: If you're looking for a fairytale city, Český Krumlov is an ideal choice. This little town in the South Bohemian region has one of the best preserved medieval city cores in the whole Europe.
The red rooftops, colorful houses, dramatic castle views and picturesque river panoramas make Český Krumlov a charming destination.
Be sure to explore the numerous museums of the Old Town and climb to the top of the castle tower for breathtaking vistas. Český Krumlov is famous for Egon Schiele Art Center, which exhibits the works of the Austrian painter who lived in the city in 1911. Holašovice, located 30 kilometers north of Český Krumlov, is a place where time has stopped.
This small village is a unique example of a medieval settlement with rows of lovely historic houses that remained almost intact throughout the centuries.
Brno: Although Brno is the second biggest city in Czech Republic, it retains a laid back atmosphere and has managed to avoid becoming a tourist trap. Brno is a fascinating mix of architectures where one street can feature Gothic, baroque, art nouveau and functionalist buildings standing next to each other.
The imposing St. Peter and Paul Cathedral is a good location to begin sightseeing before proceeding to the 13th century Špilberk Castle, which dominates the skyline.
The brightest architectural jewel of the town is undoubtedly the Villa Tugendhat – a UNESCO-inscribed masterpiece of modernism built by Ludwig Mies van der Rohe.
Right underneath the lively St. James Square lies the silent kingdom of death — an enormous Brno Ossuary that is a home to more than 50,000 human bones. It's the second largest ossuary in Europe after the Catacombs of Paris.
Read Today's News TODAY...

on our

Telegram Channel

click here to join and receive all the latest updates

t.me/thetimeskuwait