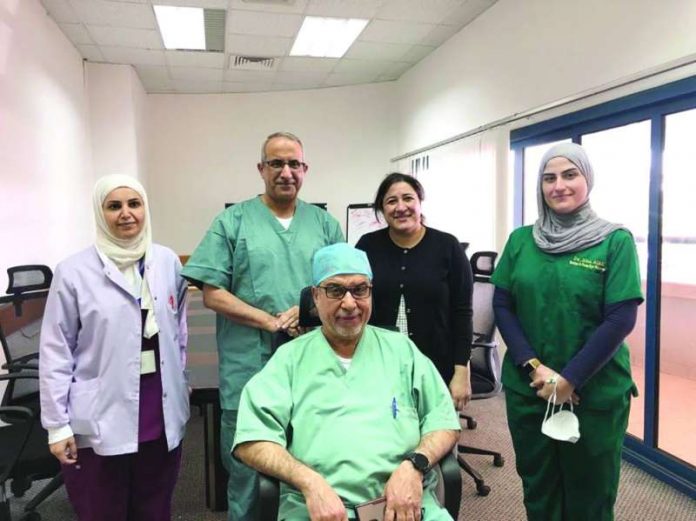 A Kuwaiti medical team was able to soothe the pain of a number of children from the malignant disease (cancer of the retina) despite facing difficult challenges at a time when countries around the world commemorate today, Tuesday, the International Children's Cancer Day in solidarity with them.
Kuwait News Agency said this is an experience worthy of honor and appreciation emerges, the heroes of which are a Kuwaiti team specialized in the treatment of cancer (retinal stem cells) in children and infants, which established itself and set an example in caring and balancing the aches of their livers after intensive stages of treatment, microsurgeries and examinations. They recorded an ideal experience that did not allow their childhood to be kidnapped but rather proved that belief in the will of life and its Creator is enough for the victory of hope, reports Al-Rai daily.
The novel coronavirus (Covid 19) pandemic was the reason for the team's success, especially since it was formed in emergency circumstances with the start of the pandemic in February 2020 and the closure of airports, which prevented sick children from traveling abroad to receive or complete their treatment.
The President of Al Bahar Eye Center, Chairman of the Council of Ophthalmology Departments and Consultant Ophthalmologist, Dr. Abdullah Al-Baghli, said the formation of a medical team to treat this type of serious cancer is a unique medical precedent and a great achievement for the Ministry of Health and the State of Kuwait and to raise its name in international medical forums.
For his part, the team leader and head of the children's strabismus unit at Al Bahar Eye Center, Dr. Adnan Al-Wael, said, "We have formed an integrated team with very precise conditions to include all the required specialties, such as pediatric ophthalmology, retinal surgery, eye sockets, pediatric oncologists, and oncologists, radiotherapy, in addition to radiologists, pediatric neurologists, and physicians. In genetics for the treatment and diagnosis of new cases, in addition to following up on patients who had received their treatment abroad before the Corona pandemic."
Dr. Alaa Al-Ali, who is in charge of following up on the team's work, said that retinal stem cancer is one of the most dangerous types of cancer that affect children's retinal cells, as these tumors grow very quickly, indicating that failure to diagnose early and delay treatment may lead to the loss of the child's life.
Al-Ali, who is one of the first Kuwaiti female doctors to have a rare specialty in retinal and vitreous surgery, children's eyes and strabismus, added that the team diagnosed and treated 10 children ranging in age from three months to two years, in addition to children who were receiving treatment abroad, all of whom are in advanced stages of treatment.
Head of Unit C in the Department of Radiation Therapy and Oncology at the Kuwait Cancer Control Center Dr. Ahmed Boushahri said there has been great progress in radiotherapy techniques and methods for treating retinal stump cancer, and most of the cases that require radiotherapy intervention are advanced or non-advanced cases which respond to surgery and chemotherapy.
Boushahri added, "Recently, an advanced case of a girl was treated with advanced radiotherapy, and thankfully, her condition is stable, and there are no longer any signs and effects of the disease."
For her part, Dr. Fatima Dashti, a consultant pediatric neuroradiologist at Ibn Sina Hospital, said that the diagnosis and follow-up of children's cases are done by magnetic resonance only, and no CT scans are done so that children are not exposed to radiation.
It is noteworthy that cancer (retinal stem cells) is a fast-growing cancerous tumor that affects the cells of the retina in children only. Children's diseases are often very different from the diseases that affect the eyes of adults, knowing that one child out of 17,000 births suffers from this type of cancer.
Read Today's News TODAY...

on our

Telegram Channel

click here to join and receive all the latest updates

t.me/thetimeskuwait