By Noura Khan
Special to The Times Kuwait
I always look forward to visiting famous landmarks around the world, especially those with a long history and intriguing stories attached to them
I have always been attracted to the Taj Mahal in India, a historical landmark that tells us one of the most beautiful love stories the world has ever known
Despite its magnificence, the 'Taj' is just one of the many historic landmarks in India, but I admit that my first visit to India was initially only to fulfill my dream of seeing this famous shrine to love and beauty. However, on further research and asking around, I learned that for any person a first visit to India must begin with a tour covering the 'Golden Triangle'.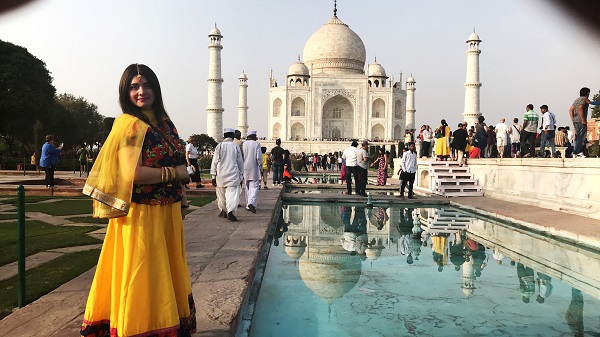 India's Golden Triangle is a popular tour circuit that covers the three cities of Delhi, Agra and Jaipur. The tour gets its name from the three-sided shape that frames the tour route. Tourists usually start their tour in Delhi, then move south to Agra, and then head to Jaipur, before returning to Delhi.
The circuit includes visits to some of the most famous tourism sites in India, including the Taj Mahal in Agra, the Tomb of Humayun in Delhi, the second resting place of Mughal emperors, and the Hawa Mahal in Jaipur, a red and pink sandstone fortress with its multifaceted windows. Additionally, this tour route will provide you with an opportunity to see some of the important UNESCO World Heritage Sites in India.
You can finish the Golden Triangle circuit within six days, spending two nights in each place. The best time to visit is between October and mid-April when the temperature ranges somewhere between 21 and 33 degrees. I chose to start my visit in the month of February from New Delhi
New Delhi, the thriving capital of India is also teeming with people, with Delhi's urban agglomeration of satellite cities together known as the National Capital Region (NCR), has an estimated population of over 28 million, making it the second-largest in the world after Tokyo. Delhi is considered a microcosm of India, as it encompasses people from all over the country who embody the diversity of cultures, customs, traditions, religions and languages that prevail in this vast nation.
I fell in love with Old Delhi at first sight, as I love old and traditional markets that sell, among others, tea and spices. So I enjoyed walking around Old Delhi's various markets. I also thoroughly enjoyed visiting the 350-year-old Chandni Chowk market with its old bazaars, mosques and temples that remind you of what Delhi was like hundreds of years ago.
As for the contemporary side, you will find it in New Delhi, which is full of famous government buildings, wonderful shopping centers, new residential complexes, and luxurious restaurants and cafes. I was impressed by the luxury commercial complexes in India, which I confirm can compete with similar complexes in the Gulf.
As for Indian restaurants in Delhi, they are a destination for food lovers who want to try the authentic food of almost all Indian states, but most of the famous restaurants require prior reservation. There are various types of food in Delhi, ranging from international dishes to local dishes that may appeal to the traveler who enjoys good taste. I especially love Indian cuisine as it provides me, a vegetarian, with so many options.
I visited many tourist attractions in Delhi, such as Qutub Minar, which is famous for the tallest lighthouse in India and is considered the second tallest lighthouse in Islamic history. In addition to visiting the India Gate, the Grand Mosque and the Red Fort
On the third day, we headed by car early in the morning with our tour guide to Agra. There are multiple ways to reach Agra and it is more comfortable than the car trip which takes five hours or more.
Many people are satisfied with visiting Agra for one day or half a day, but for me I wanted to enjoy the magical sunrise shining over the magnificent marble tomb built in loving memory of Mughal Emperor Shah Jahan's favorite queen Mumtaz Mahal in 1648. I also wanted to explore Agra in more detail so I chose to stay for two nights.
And, the next morning I realized my dream of witnessing the amazing sunrise over the Taj Mahal.
Agra is one of the most important tourist cities in India, and it is on the Jumna or Yamuna River, which increases its strategic and commercial importance.
The climate in the city is moderate most of the year, especially in the period from November to March, which is the most appropriate period to visit, as many celebrations are held during that period.
My stay in Agra was in one of its most luxurious hotels, The Oberoi Amarvilas Agra
The hotel is located 600 meters from the Taj Mahal, and it is a 5-star hotel, as it offers luxurious hotel service that satisfies all visitors.
There are important places in Agra that must be visited, such as the Red Fort of Agra, which is one of the most important historical tourist attractions in India, and it is a monument of great importance and dates back to the seventeenth century Mughal-era. Another must-visit site is Fatehpur Sikri, located in Agra, in the Indian state of Uttar Pradesh. It was founded by the Mughal Emperor Jalaluddin Akbar in 1569, who made it the capital of the Mughal Empire
After spending two days in Agra we headed west to visit Jaipur in the State of Rajasthan. Jaipur, the desert capital of India, also known as the Pink City, is a land of palaces and lakes and a gateway to arguably one of India's most glamorous states. The region is home to the warrior Rajput clans known for their bravery and toughness.
Jaipur is full of amazing tourist attractions such as Hawa Mahal and Amber Fort, and riding elephants up to the fort is a popular tourist activity that tourists enjoy during their visit to Jaipur, and in particular at this fort. From the top of the fort you can enjoy views through its many entrances and arches of the surrounding area and of Lake Maota below the fort.
The Sheesh Mahal or 'Mirror Palace' is also one of the attractive halls that you must visit inside the fort. This hall is decorated with many mirror tiles that reflect rays of sunlight to illuminate the entire hall.
If you visit India only once, you will not be satisfied with that visit, and you will feel the need to repeat the visit to explore other regions of the country, all rich in nature, beauty and history.
I also enjoyed shopping in India and returned to Kuwait loaded with extra weight. The shopping experience in India is unique because of the quality and color of fabrics available at very good prices. I plan to visit India again to enjoy more of Indian cuisine, shopping and exploring the unique sites that make this country so interesting and attractive to tourists.
---
Noura Khan, a travel influencer and content creator, is a Kuwaiti national, holds a degree in law from Kuwait University and has worked as a journalist prior to taking up a position in the government. In 2018 she started blogging on travel and has visited more than 57 countries since. She has more than 54K followers and her blog post @nourajtraveller is well appreciated for content and travel information. Noura writes exclusively for The Times Kuwait on her travel visits.
---
Read Today's News TODAY...

on our

Telegram Channel

click here to join and receive all the latest updates

t.me/thetimeskuwait