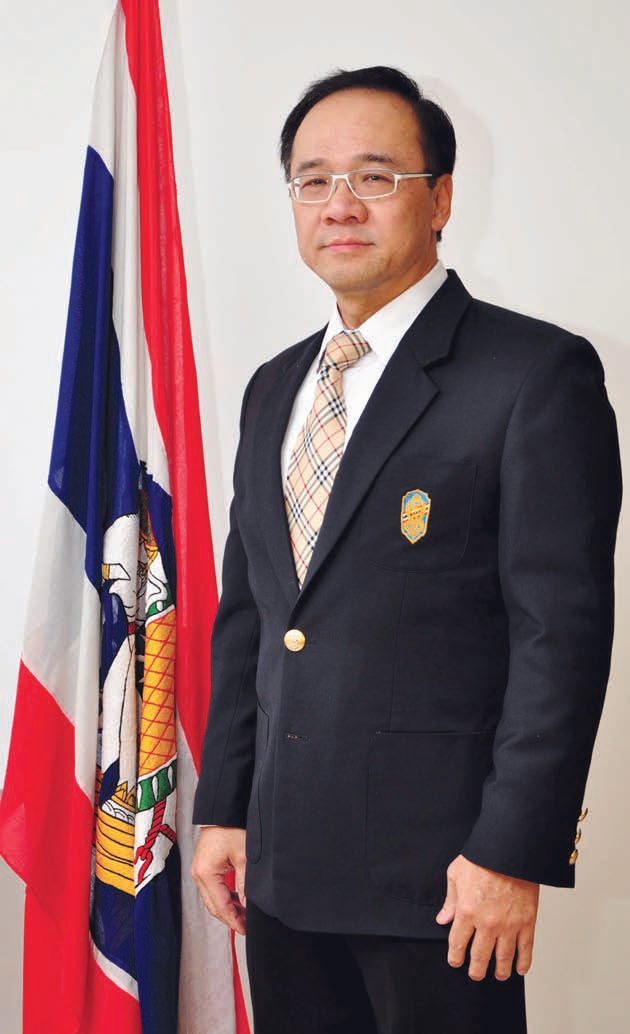 Ambassador H.E. Surasak Chuasukonthip
Ordinary Thai people pride themselves on being the 'Land of the Free', a reflection of the fact that Thailand is the only country in Southeast Asia to have never been colonized by European powers during the height of European hegemony in past centuries. This unique standing of Thailand has been ascribed to able rulers who had mastered and fine tuned the art of diplomacy during the four centuries of European domination in the region. So it was no surprise that during an exclusive interview with The Times, H.E. Surasak Chuasukonthip, the Ambassador of Thailand to Kuwait, proved to be an epitome of diplomacy.
In a long-ranging interview, the ambassador spoke in depth of longstanding Thai Kuwait relations, both on a government to government and people to people level. With over three decades of experience in Thai Foreign Services, Ambassador Chuasukonthip, is a career diplomat and a veteran in international diplomacy. His young and dynamic deportment belies the vast experience he has acquired over the years in service of the Kingdom's diplomatic missions in Philippines, the Netherlands and Singapore. In Bangkok he has also served at the Department of International Economic Affairs, Department of ASEAN Affairs and Department of Consular Affairs, and in March 2012 was assigned as Head of Mission at The Royal Thai Embassy in Kuwait.
"Thailand and Kuwait have enjoyed a long and cherished friendship ever since the two countries established diplomatic relations in June 1963; exactly two years after Kuwait gained its independence in June 1961. Over a span of nearly five decades, bilateral relations, based on mutual understanding and close cooperation, have grown from strength to strength," the ambassador revealed at the beginning of the interview. He added, "Cordial ties were further strengthened through high-level visits, including by H.H. Sheikh Sabah Al-Ahmad Al-Jaber Al- Thailand Land of the Free Sabah, the Amir of Kuwait to Thailand in 2006, when he attended the 60th anniversary celebration of H.M. King Bhumibol's accession to the throne; the official visit to Thailand in 2008, by H.H. Sheikh Nasser Al-Mohammad Al-Jaber Al- Sabah, the former Prime Minister of Kuwait. And in October 2012, H.E. Ms. Yingluck Shinawatra, the Prime Minister of Thailand, paid a historic visit to Kuwait as head of the Thai delegation to the First Asian Cooperation Dialogue (ACD) Summit held in Kuwait."
"The visit by our Prime Minister was remarkable in that it marked the first-ever visit by a Head of the Government of Thailand to Kuwait since the two countries established diplomatic relations. The visit was also significant in that it opened a new chapter in expanding bilateral ties and cooperation in various domains, including trade, cultural and commercial fields. Business relations that were initiated more than three decades ago have steadily increased and last year the bilateral trade between the two countries stood at over $1.1 billion. Among the major products exported by Thailand to Kuwait are rice and other food products."
"During the recently concluded ACD Summit in Kuwait, our country, as the coordinator of ACD, collaborated closely with concerned authorities in Kuwait to ensure the smooth success of the Summit. H.E. The Prime Minister of Thailand, as head of the delegation to the ACD Summit, stated her sincere appreciation for the generous hospitality and excellent arrangements made by the State of Kuwait. And, she expressed the hope that the First ACD Summit would provide a strong impetus to shape future cooperation between Asian nations, so as to match expectations of Asia as a new global growth center."
"Tourism is also another sector that has promoted people to people relations; annually over 60,000 Kuwaitis travel to Thailand for vacation and increasingly for medical treatment. Highlighting the strong bonds of friendship that exist between the two countries, Thailand was a staunch supporter of Kuwait and its freedom during the Iraqi invasion. Following Kuwait's liberation, Thailand sent a contingent of doctors, nurses and soldiers to join the United Nations Iraq – Kuwait Observer Mission. Similarly, when Thailand was afflicted by severe floods in 2011, Kuwait generously extended a donation of $3.5 million to assist flood victims. Also, in the field of academics, currently Kuwait grants scholarship to 45 Thai Muslim students to pursue their further studies in Kuwait."
Expanding on the concept of improving people to people contact between Thailand and Kuwait, Ambassador Chuasukonthip said, "Currently, there are about 2,500 Thai nationals living and working in Kuwait. They are engaged in professional, skilled and semi-skilled jobs mainly in the construction, industrial and service sectors. As representatives of Thailand, they help build and communicate the country's image through their interaction with local people. The embassy supports and promotes various social, cultural and sporting events among Thai citizens in Kuwait for their enjoyment as well as because these activities also help showcase Thailand in Kuwait." Pointing out that Kuwait's economic strength and stability ensured the country's longterm prosperity and well-being of its citizens, Ambassador Chuasukonthip said, "Kuwait's democratic traditions and principles, which form the core of Kuwaiti society and allow its citizens to freely express their opinions and elect their representatives to the National Assembly, has given Kuwait a unique and lofty standing among world countries."
A father of two grown-up children, the ambassador was also very appreciative of the strong familial bonds and the strength of love and devotion among family members that exist in Kuwait. He also highly valued the kind advices, friendly reception and warm welcome he has been accorded during his many interactions with government officials and private individuals. "The friendly bits of advice I received on local traditions and practices have facilitated me in carrying out my official duties and made my ongoing tenure in Kuwait a very enjoyable one," concluded the ambassador.
Read Today's News TODAY...

on our

Telegram Channel

click here to join and receive all the latest updates

t.me/thetimeskuwait