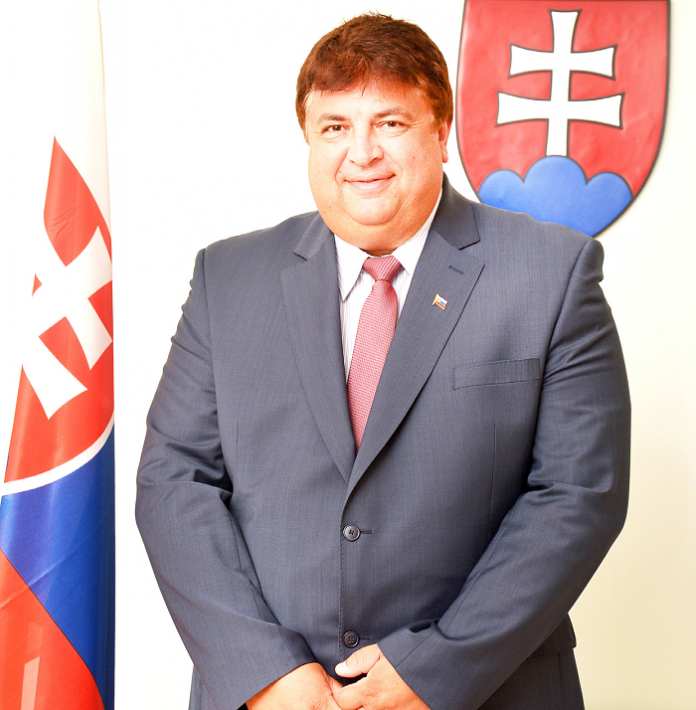 Ambassador Pavol Svetik
A career diplomat who graduated from the renowned Institute of International Relations in Moscow, with specialization in Middle East affairs, His Excellency Pavol Svetik, Ambassador of the Slovak Republic to the State of Kuwait, considers the Middle-East to be of special interest to him.
The ambassador admitted this fondness for the region and especially the Arabic language, in which he is quite well-versed, during an exclusive interview he recently afforded to The Times Kuwait. He joined the diplomatic service in 1985. Except for about a year and half that he spent as Director-General of Security Policies at his country's Ministry of Defense, most of his career has been devoted to diplomacy.
His foreign diplomatic postings have seen him being assigned to Libya in North Africa, Malaysia in South-East Asia and Canada in North America, before being appointed as his country's ambassador to Kuwait in 2014. "I am pleased to be in a region that I have always wanted to be in, and hopefully during my four-year tenure here I will be able to strengthen the existing strong bilateral relations between our two countries, and in the process refresh my Arabic skills," said the diplomat.
Saying that Slovakia appreciates the close and friendly relations it has with Kuwait, the ambassador noted, "In our perception, Kuwait is a strong economic player with significant influence on the international arena, especially in the Middle-East and among the GCC states. It is significant that bilateral relations on the diplomatic and political front are bolstered through regular high-profile visits between the two countries." In March 2013, the State Secretary of the Ministry of Foreign and European Affairs of Slovakia, Peter Burian, together with the State Secretary of the Ministry of Finance, Vazil Hudak and the State Secretary of the Ministry of Economy, Pavol Pavlis, visited Kuwait and met with their counterparts in this country. In their discussions with officials from Kuwait Investment Authority (KIA) and the Kuwait Fund for Arab Economic Development (KFAED), the two sides explored opportunities for investment inflow from Kuwait to Slovakia, as well as cooperation in infrastructure projects.
"We are now looking forward to the slated visit by His Excellency the First Deputy Prime Minister and Foreign Minister Sheikh Sabah Al-Khaled Al- Hamad Al-Sabah to Slovakia, either by the end of this year or early next year," said the envoy. He also revealed that the President of Slovak Republic, His Excellency Andrej Kiska, has extended a cordial invitation to His Highness the Amir Sheikh Sabah Al-Ahmad Al- Jaber Al-Sabah to visit Slovakia at an opportune moment.
"There are also regular working contacts and exchange visits by elected representatives and parliamentary bodies of both countries. The most recent such visit was last month, when a parliamentary delegation from Kuwait, headed by the Deputy Speaker of the National Assembly, Mubarak Al-Khurainej, visited Slovakia." During the visit, Kuwaiti MPs held a series of meetings and discussion with senior Slovak officials and parliamentarians. Following these constructive discussions, the two sides agreed on giving impetus to bilateral relations and enhancing cooperation in various domains, especially in health, trade and investment.
Elaborating on the economic cooperation between Slovakia and Kuwait, Ambassador Svetik noted that both countries have signed several agreements to facilitate trade and investments, including one on protection of mutual trade and investments, and another on avoidance of dual taxation.
"These two treaties came into effect in 2012 and 2014 respectively, and we are now in the process of implementing them. It is worth noting that Kuwait is the only country in the GCC with which we have such agreements," said the envoy. "We are also in the process of finalizing the text of an agreement on economic cooperation, which hopefully will be signed during the planned visit to Slovakia by Foreign Minister Sheikh Sabah Al-Khaled Al-Sabah. This agreement is of great significance to our bilateral relations as it will form the basis for setting up Joint Commission to facilitate relations in all domains."
"Mutual trade between our two countries while encouraging still leaves plenty of space for enhancement. Last year, the volume of bilateral trade touched US$50 million, most of it in exports from Slovakia to Kuwait. Among the main export items were road vehicles, machinery and electrical equipment, and paper boards; imports from Kuwait centered on plastics and chemicals. However, given the high level of industrialization in Slovakia and its traditional strength in manufacturing, there is plenty of scope for further improvement in bilateral trade," noted the diplomat.
Disclosing that an added emphasis during his tenure would be to boost bilateral trade between the two countries and increase mutual investments, the ambassador said, "It is not just my opinion but a common wish on the part of the Slovak government to increase cooperation and trade with countries in this region. Currently, the level of investment between Slovakia and Kuwait is practically non-existent. One of my main tasks will be to hold talks with government bodies, such as the KIA and KFAED, as well as with private enterprises, to highlight the potential for investments in various sectors of the Slovak economy."
"In this regard, I am pleased to note that early this year a delegation from Kuwait Fund for Arab Economic Development, along with their colleagues from Saudi Arabia and United Arab Emirates, visited Slovakia. During their visit, the delegation met and discussed with government officials and private entrepreneurs the economic possibilities and investment opportunities in Slovakia. This is a good start and hopefully results could begin to appear in the very near future.
Meanwhile, I would like to invite Kuwaiti entrepreneurs to visit Slovakia and examine the vast business and investment opportunities available there. To this end, we plan on facilitating tradevisits, seminars and discussion between business people in Slovakia and their counterparts in Kuwait." Detailing the attractiveness of Slovakia as an investment destination the ambassador noted, "Our strategic location in the heart of Europe, our manufacturing infrastructure, highly skilled workforce and investment incentives, has attracted businesses from around the world.
Today, Slovakia is the assembly hub for three leading automotive manufacturers — the South Korean KIA Motors, the German Volkswagen Group and the French PSA Peugeot Citroen. Given the country's relatively small population of 5.5 million, Slovakia produces more cars per 1000 people than any other country in the world. Major electrical and mechanical equipment manufacturers, including the likes of the General Electrical, Siemens and Alcatel, as well as global electronic manufacturers such as Panasonic, Sony, Samsung, Lenovo, IBM, AT&T, Dell and HP have production facilities in Slovakia.
The country's location, its membership in the European Union, NATO, OECD and WTO, as well as its cohesion within the larger Eurozone and Schengen Area, makes Slovakia an excellent area for investments and exports. Since 1993, Slovakia has been the top investment destination in the Central and East European (CEE) region, and one of the most attractive emerging markets in the world, with total volume of Foreign Direct Investment inflow exceeding US$50 billion in 2010.
Saying that it was not just automobile, electrical and machinery manufacturing that made Slovakia an investment destination, the envoy added, "We are also well-known for our R&D in science, in agriculture and heavy industries." Pointing out that healthcare, education and tourism sectors were other areas for investment and cooperation between Slovakia and Kuwait, the Ambassador Svetik said," This year, a delegation from the Ministry of Health is expected to visit Slovakia to examine the country's potential to offer specialized healthcare for Kuwaiti patients seeking medical assistance abroad. The delegation will visit several medical facilities in the country and observe the high quality of healthcare provided in Slovakia, especially the recuperative and therapeutic services offered by its world-class spas."
Read Today's News TODAY...

on our

Telegram Channel

click here to join and receive all the latest updates

t.me/thetimeskuwait