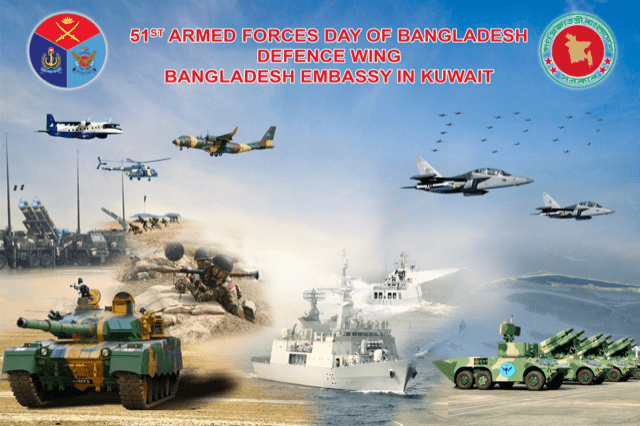 Armed Forces Day of Bangladesh, commemorated each year on 21 November, bears special significance in the history of the country. This occasion is celebrated every year with due respect and solemnity and it is instilled in the heart of every citizen of Bangladesh. Members of Bangladesh Armed Forces take special pride in organizing ceremonies in a befitting manner with honor and dignity.
Following 23 years of ceaseless struggle to establish their rights, and with the historic declaration of independence by Father of the Nation Bangabandhu Sheikh Mujibur Rahman, the liberation war of Bangladesh began on 26 March, 1971.  Initially it was a guerrilla resistance movement consisting of Bangladesh military, paramilitary and civilians brought together under the banner of Bangladesh Liberation Forces. The war lasted for nine months and in the later stage of the liberation war, Bangladesh Liberation Forces were organized as the conventional Army, Navy and Air Force of the country.
From 21 November 1971, the simultaneous and coordinated operations of the Army, Navy and Air Force gained offensive momentum. Consequently, within a month, occupation forces surrendered and Bangladesh was liberated on 16 December 1971 to emerge as an independent country in the world comity. The independence of Bangladesh came at the cost of supreme sacrifice of 3 million martyrs, with over 200,000 women losing their sanctity and many more suffering war injuries. The world-famous weekly magazine 'The London Times' noted, ''If blood is the price of Independence, then Bangladesh has paid the highest price in history''.
On 21 November each year all Bangladeshis pay homage to their war heroes and martyrs. The day inspires the members of Bangladesh Armed Forces to renew their oath to protect the sovereignty and territorial integrity of their motherland. It also signifies the paramount importance of comradeship, togetherness and jointness in arms to fight collectively against the enemy.
Bangladesh Armed Forces, since its inception during liberation war, is known as armed  forces of the people. In Bangladesh, Armed Forces are a symbol of pride, a symbol of trust and confidence. Beside its constitutional role, the armed forces also plays a key role in nation building activities, disaster management and internal security duties etc. Bangladesh Armed Forces had a very important role in successfully combating COVID-19 situation. It has a very constructive role in managing forcibly-displaced Myanmar nationals of more than one million.
In conformity to the constitution of Bangladesh to maintain global peace, Bangladesh Armed Forces stands today as the largest troops contributing country to the United Nations Peacekeeping Operations. Bangladesh now has more than 6,500 Armed Forces personnel deployed in 10 United Nations missions across the globe, including in Sudan, South Sudan, DR Congo, Mali, Central African Republic, Ethiopia, Yemen, Lebanon and Western Sahara.
To meet the challenges of 21st century Bangladesh Armed Forces are being modernized under 'Forces Goal-2030'. Bangladesh Armed Forces also maintain very friendly relations with many Armed Forces of the World.
The cooperation between Bangladesh Armed Forces and Kuwait Armed Forces is very special. Apart from exchange of visit, training etc, Bangladesh Armed Forces have a constructive role in Kuwait.
The Bangladesh Military contingent has been deeply engaged in demining, demolition, construction, medical treatment, maintenance and security duties in Kuwait since 1991. A total of 93 members of Bangladesh Armed Forces sacrificed their lives while working for the friendly country of Kuwait. More than 5,200 personnel of the Bangladesh Armed Forces are currently serving in Kuwait. Defence Wing, Bangladesh Embassy is happy to be able to celebrate this special day with people of the friendly country of Kuwait. Long Live Kuwait Bangladesh Friendship.
Read Today's News TODAY...

on our

Telegram Channel

click here to join and receive all the latest updates

t.me/thetimeskuwait