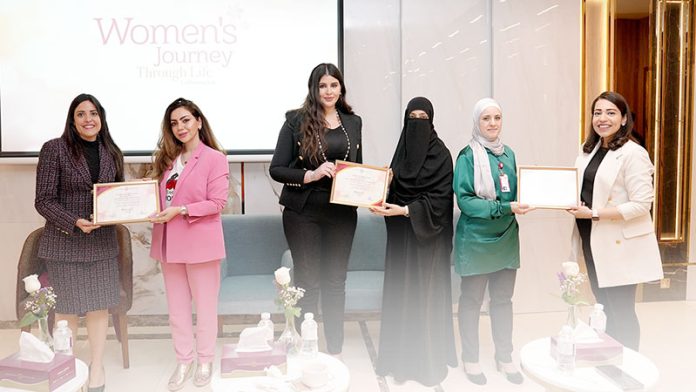 THE TIMES KUWAIT REPORT
---
Royale Hayat hospital hosted a celebration in Kuwait, titled 'Women's Journey Through Life' to honor mothers everywhere. The event, organized at Gardenia Hall, on 21 March, was attended by popular online influencers, vloggers, seasoned diplomats, and valued patients who had given birth to their children at the Royale Hayat Hospital.
Opening the event, Director of Hospitality and Marketing at Royale Hayat, Marta Garcia, invited the guests and speakers to present their life-changing experiences as women, and their journey in pursuing 'Empowerment'.
Ambassador of Indonesia, H.E. Lena Maryana, set the ball rolling by talking about her life as a woman, as a mother, and the ever-humbling circumstances she endured to become the person she is today. She mentioned that the battle for gender equality and women's empowerment is for everyone, and nothing should be an obstacle, especially not being a woman in society, to fulfill good ambitions and plans in life. "No matter what you carry on your shoulder as a woman, a daughter, or a mother, you will fight by standing up and speaking with perseverance and continuing to fight for women's rights," she said.
For her part, Public Affairs Counselor at the US Embassy, Christy Watkins, spoke on the experiences of women in their chosen profession, in a talk titled 'Women in the Workforce'. Noting that she is proof that gender is not a barrier to achieving success and getting what you want in life, she shared that she had always stood by her parents' advice to, "Always show up, get there early, and make sure you get a seat at the table! Don't be a victim! You're going to have a lot of disadvantages, you have to work twice as hard as a woman".
In her inspirational message, Dr. Abeer Al Zaydai, an obstetrician and gynecologist at Al Adan Hospital, imparted words of advice to the attendees. Stating that, "strong men are the ones supporting strong women," she added that the two genders work best together and should always work together to advance in life. Recounting her own experience with her family, she mentioned that one thing that was instilled in her mind was to follow her passion and express herself. Dr. Abeer said that these inspiring words guided her to fulfill her desires, despite objections from people around her. She stated the one golden rule she swears by, "Don't ever try to change others, but change yourself to a better version of yourself."
Another speaker at the event was Chair of Banking Finance at ABCK-Amcham Kuwait, Mercedes Vazquez, who said, "If you can't see it, you can't be it." Noting that her title did not define her, she added that one of her favorite sayings was: 'A mind is like a parachute, it works best when it is open'.
Market Representative of Accreditation Canada, a leading healthcare accreditation entity, and wife of the Ambassador of Ukraine, Olga Melynk also related her touching story as a single woman, and how her life changed when she got married and gave birth to beautiful twin girls at Royale Hayat Hospital almost a year ago.
She emphasized that her experiences as a wife and mother had proven that it is up to a person to design her path in life and to make decisions despite the storms, trials, and weaknesses they experience. She asserted that they must stand up, continue to follow their dreams, and make joint decisions with their loved ones. She also said, "Most importantly, you and your life partner should always work together to continue the fight and lift each other toward success."
A panel discussion held during the event included Kareena Handa, Dr. Alia Ali Ibrahim, and Sarah Knaimesh from Royale Hayat Hospital. The discussion hinged on the theme of 'Balancing being a Mother and Work Career', with each of the panelists sharing their observations. The women stressed the importance of education and how no one could take it away from another person. On the subject of motherhood, they acknowledged the difficulties involved and added that a mother's temperament, whether happy or sad, affected her child.
Pointing to the worth of women as individuals, Mrs. Handa said: "All the women here, you have to realize you need to know your worth, you need to know that you're precious, and, as moms, we're raising the next generation of human beings."
Dr. Ibrahim then spoke about how a mother's career could inspire her children; "I believe that whenever you inspire your kids with what you're doing, it will make them feel that you're doing a great job, they will be proud of you, and they will never feel that you have left them behind and that you don't give them time."
At the end of the event, each of the speakers was awarded a plaque of appreciation by Ms. Garcia. The award ceremony was followed by a delectable 'Tea Brunch' from Royale Hayat's world-class Executive Chef and kitchen team. Royale Hayat Hospital stated that it will always be part of the advocacy for a well-balanced and healthy life, women empowerment, and motherhood.
Read Today's News TODAY...

on our

Telegram Channel

click here to join and receive all the latest updates

t.me/thetimeskuwait