Putting makeup on dry skin in the winter can be a difficult task. With the dry air sucking moisture out of your hands, hair, lips, and face, the idea of putting makeup on top of that is just unappealing. But rather than throw in the towel and skip makeup until spring gets here, here are some helpful tips.
Get rid of flakes: If you're exfoliating only at night, your life is about to get so much better. A quick, mini chemical peel in the morning is a crucial step, especially during the winter. A peel pad with glycolic acid will get rid of flakes and dry skin without the harshness of buffing exfoliants. Heads up: In the winter go super easy around your nose, chin, and brows, which gets most dry.
Mist: A mist product is very good for the face to get it slightly damp so your moisturizer has some hydration to lock in. It's a small thing, but makes all the difference when you're heading out into a dry, cold wind.
Add a heavy-duty moisturizer: Then we get to the key player: a thick, creamy moisturizer. If you put on moisturizer from the center of your face out (so, the classic dab on each cheek, T-zone, and chin),  you're actually doing more harm than good. You get oily in those spots first, so focusing moisturizer there leaves your makeup slipping away while the rest of your face gets dry. Instead, put on moisturizer starting from the edges of your face and working inward, toward your nose.
Another good tip is layering your moisturizers, which is also a great way to alleviate dry skin and get a better makeup application. Start with a creamy moisturizer that hydrates and puts water back into the skin, then layer on an oil or serum to further the process, adding essential oils back into the skin. This also helps to create a protective layer from the elements, as well as a great base for your makeup application. The smoother and more hydrated the surface, the more even your makeup application will be.
Swipe on eye cream pre-concealer: Of the undereye trifecta of dark, puffy, and crepey, that last one gets the worst in cold weather. Common sense: Fragile skin gets even more so in harsh conditions. Pick an eye cream that is good for sensitive eyes and leaves a layer of moisture that keeps your concealer from sinking into fine lines.
Dab on an ultra-creamy concealer: Foundation can easily skew cakey in dry weather, so reach for a concealer that allows for allover coverage.
To really get concealer to sink in and look natural, skip traditional concealer brushes. Flat brushes can make your concealer look streaky, so use a fluffy eyeshadow brush since it will get into every angle around your nose and eyes to blend.
Seal it all in with a spritz: If you're someone who likes to finish your makeup with a setting product, a spray formulation is better rather than a powder when your skin is parched. The last step is to spritz skin with a hydrating mist product, which will freshen makeup and give a gorgeous finish.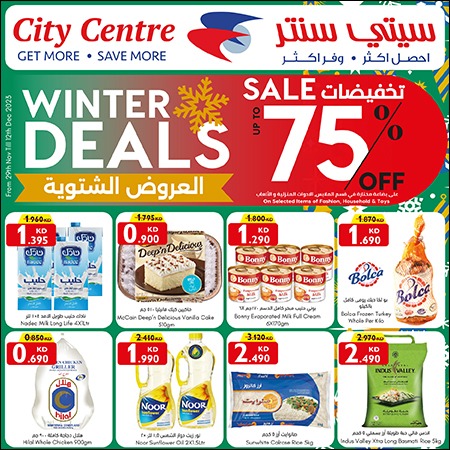 Read Today's News TODAY...

on our

Telegram Channel

click here to join and receive all the latest updates

t.me/thetimeskuwait