As the 50-day countdown to the start of the global showpiece, the FIFA World Cup 2022 in Qatar on 20 November begins, fans who have not yet secured their seats — or who want to add even more fantastic contests to their schedule — now have another opportunity to do so with the start of the last-minute sales phase on Tuesday, 27 September.
Tickets, which can be purchased at FIFA.com/tickets, are available on a first-come, first-served basis and will be subject to availability. This sales phase will run until the end of the tournament. While demand has been high and the initial inventory is expected to sell out quickly, fans should check FIFA.com/tickets on a regular basis as additional batches of tickets will be made available through further releases and resales, which will re-launch in due course.
Individual match tickets will be available in all four price categories, with category 4 tickets reserved for residents of Qatar. Customers can purchase a maximum of six tickets per match and 60 across the entire tournament. Disabled people and people with limited mobility are encouraged to browse the options online and select from a range of dedicated Accessibility Tickets.
With exciting match-ups taking place around Qatar on the same day, fans will be able to take advantage of the unique opportunity to watch up to two showdowns on certain group-stage match days.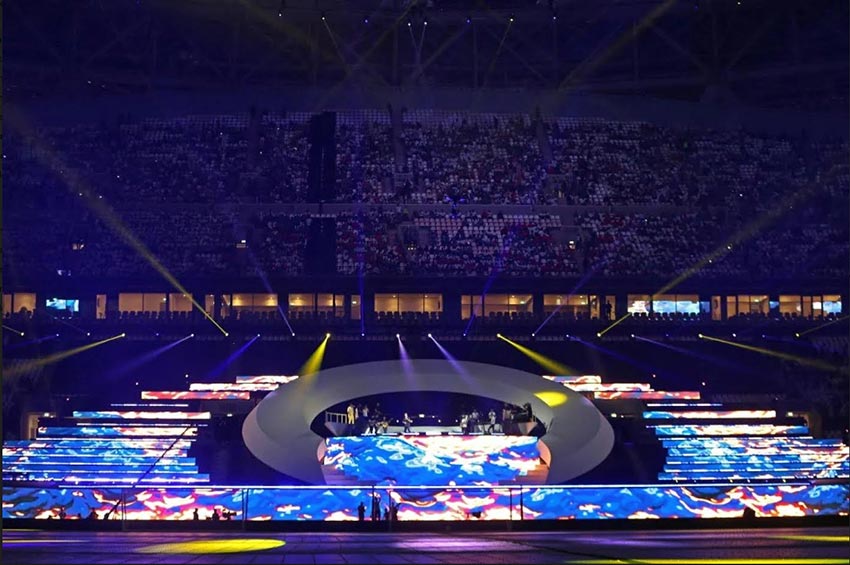 FIFA has announced that all tickets for the general public will be fulfilled as mobile tickets. No earlier than the second half of October, FIFA will release a dedicated ticketing app that customers will need to download. Purchased tickets will then be uploaded to this app and will be activated when fans access the stadium.
In addition to the ticketing app, and at the request of the Qatari authorities, all local and international fans must apply for a digital Hayya (Fan ID). This is an entry permit for the State of Qatar and, in addition to a match ticket, required for stadium access.
To apply for a digital Hayya, and to book accommodation, visit www.Qatar2022.qa or download the Hayya to Qatar 2022 app, which is available on iOS and Android. Hayya is operated by the Government of Qatar.
For their part, authorities at the Ministry of Interior in Qatar have announced new entry and exit regulations to and from the country during the FIFA World Cup. The ministry has stated that it would be suspending normal entry visas for all visitors, effective from 1 November, 2022.
Revealing this new directive, Executive Director, Office of the Commander of Tournament Security Operations, Col. Jassim Al Sayed, explained that only Hayya Card holders will be allowed to enter the country during this period. They can also stay in the country till 23 January, 2023.
Director of the Public Relations Department and head of Media Unit, Security Committee, Brig. Abdulla Khalifa Al-Muftah, said entry for anyone without the Hayya Card to the country through its air, land and marine borders will be suspended until 23 December of this year.
The decision, however, will not affect exempted categories such as Qatari citizens, residents and GCC citizens holding a Qatari ID card, holders of personal visas and work entry permits, as well as approved humanitarian cases.
The Ministry of Interior called on all to abide by the laws and regulations issued in this regard and not to violate them in order to ensure the successful organization of the upcoming World Cup event.
Qatar will become the first Arab country to host the World Cup, the biggest sporting spectacle on the planet. The 2022 FIFA World Cup is slated to take place from 20 November to 18 December with hosts Qatar taking on Ecuador in the opening game.
FIFA president Gianni Infantino has said it will be the "best-ever" World Cup and that foreign fans will have an experience like a "child going to Disneyland for the first time and seeing the attractions and the toys". FIFA claimed that so far over 2.45 million of the three million tickets have been sold and that the final round of online sales will be held later this month.
Meanwhile, the $675 million Lusail Stadium that Qatar will use for this year's World Cup final has been put through its first sellout test earlier in September with a match between the Egyptian team Zamalek and Saudi champions Al Hilal.
The game was a test run for security, the border immigration system and the multi-billion dollar driverless train metro that will take the strain, ferrying more than one million fans around Doha during the World Cup. To take pressure off the main international airport, Qatar also recently reopened an old airport that had been kept for use by the ruling family and other VIPs.
Lusail was the last stadium to be officially inaugurated and Head of the Qatari organizing committee Hassan Al-Thawadi, said the opening of Lusail Stadium was "an emotional moment". "It is the culmination of a 13-year journey," The stadium, shaped like a traditional Arabic bowl, is at the heart of a new city being built north of Qatar's capital Doha. It will host 10 World Cup matches, including the final.
Hundreds of football fans from Saudi Arabia and Egypt crossed the Abu Samra frontier in buses, after leaving their cars on the Saudi side, to see the inaugural match at the ultra-modern Lusail Stadium. All had to apply for the special fan ID, the Hayya Card. "We entered with just our passport and the Hayya Card," said an Egyptian fan living in Saudi Arabia. "It was simple and well-organized." Another Zamalek supporter added, "We hope that this is a promising start for a good World Cup for all the Arab world."
Read Today's News TODAY...

on our

Telegram Channel

click here to join and receive all the latest updates

t.me/thetimeskuwait