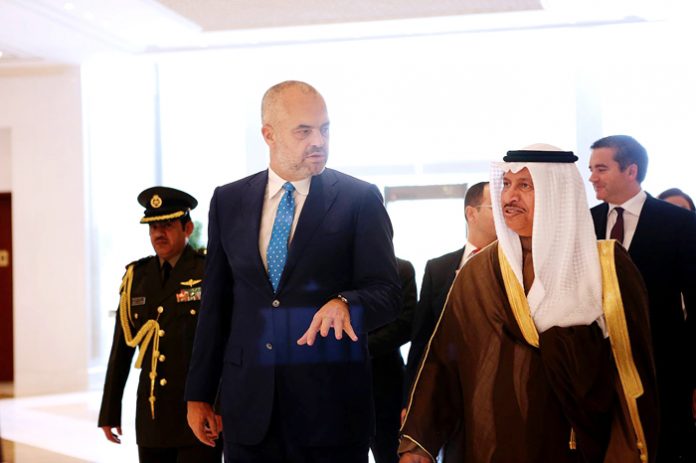 The recent official visit to the State of Kuwait by Prime Minister of Albania His Excellency Edi Rama strengthened existing strong ties between our two countries, while marking new heights in bilateral relations. The visit also gave further impetus to mutual cooperation in various fields, said the Ambassador of Albania to Kuwait His Excellency Kujtim Morina, while speaking to The Times Kuwait.
Ambassador Morina added that during the visit, the prime minister met and held discussions with his Kuwaiti counterpart, His Highness Sheikh Jaber Al-Mubarak Al-Sabah. During his two-day visit Prime Minister Rama also met with His Highness the Crown Prince Sheikh Nawaf Al- Ahmad Al-Jaber Al-Sabah and the Speaker of National Assembly of the State of Kuwait, H.E. Marzouq Al-Ghanim.
The high-powered delegation that accompanied the prime minister during his official visit to Kuwait included the Foreign Minister Ditmir Bushati and the Minister of Economic Development and Trade Arben Ahmetaj, as well as four members of the Albanian Parliament, three Mayors and a 16-member business delegation.
In their meeting, the two prime ministers discussed ways of promoting and bolstering bilateral cooperation and coordinating views on several regional and international issues of mutual concern. The talks were attended by First Deputy Prime Minister and Minister of Foreign Affairs Sheikh Sabah Khaled Al- Hamad Al-Sabah, Minister of State for Cabinet Affairs Sheikh Mohammad Abdullah Al-Mubarak Al-Sabah, Minister of Finance Anas Al-Saleh and the visiting Albanian prime minister's accompanying delegation.
Another highlight of the prime minister's visit was the number agreements signed between the two countries, noted the diplomat. Following the talks between the prime ministers, Kuwait and Albanian signed a number of cooperative agreements and memos of understanding, mainly pertinent to mutual visa exemption, environment, sustainable development, public health, medical sciences and export development.
After his meeting with Kuwait's leadership, Prime Minister Rana said, "We have a special relation with Kuwait where I felt being welcomed as a real friend." He went on to point out that the Albanian Post Office's recently issued a special stamp bearing the image of His Highness the Amir in appreciation of his role in cementing bilateral ties.
The prime minister added that when he was the Mayor of Tirana, the capital of Albania, he had proposed granting an honorary citizenship to His Highness the Amir Sheikh Sabah Al-Ahmed Al-Jaber Al-Sabah, which was approved by a full majority of the city council. "His Highness the Amir is an honorary citizen of our capital city since 13 years," he said.
Prime Minister Rama also noted the UN honoring of His Highness the Amir as a "Humanitarian Leader" because of his "role and his leadership" in humanitarian work, as well as naming Kuwait as a "Humanitarian Center." "We have received very generous help from the Kuwaiti government, five million euros is at our disposal to enhance the reform process … to help us address rightly key priorities," said the prime minister.
"During his two-day visit, the Prime Minister Rama also led official talks between his delegation and their Kuwaiti counterparts. These discussions were really lively and fruitful in further strengthening bilateral and multilateral relations between the two countries," said Ambassador Morina.
During bilateral talks between Albanian and Kuwaiti delegation, emphasis was placed on promoting economic cooperation between the two countries, especially in tourism and water sectors. During these sessions, Prime Minister Rama reiterated the reforms undertaken by his Government and the potential that the country offered to foreign enterprises interested in investing in Albania.
The prime minister and the business delegation accompanying him also held a business forum at the Kuwait Chamber of Commerce and Industry where discussions focused on economic cooperation and encouraging private sector investments in Albania. In his speech to the Kuwait Chamber of Commerce and Industry the Albanian prime minister commended the State of Kuwait for its contribution to the development of Albania and called on Kuwait's private sector to invest in different fields in his country.
Describing relations with Kuwait as "special" the prime minister said, "We are ready to welcome private investment in Albania and look forward to developing these relations further by supporting Kuwaiti investors to invest in Albania in several fields." He also added that he was holding meetings with the private sector in Kuwait to explore how important entrepreneurs could start business in Albania in different fields like real estate, agriculture, airlines, tourism and water.
During his visit, the prime minister also held talks with the Director-General of Kuwait Fund for Arab Economic Development (KFAED), which served to identify and elaborate several fields of economic cooperation between the two countries.
Noting that the KFAED had since 1993 extended six loans worth over KD21 million for agricultural and transport projects in Albania, the prime minister added that the Fund had played an important role during the difficult transition period in Albania.
It is worth noting that with a rising domestic economy, expanding exports and a skilled and adaptable work force, as well as relatively low labor costs, Albania is a very attractive investment destination. Moreover, with one of the youngest population in Europe, with 57 percent of its population below the age of 35, the country has one of the youngest and most competitive work-force in the region.
Furthermore, one can easily invest in the country's agriculture sector. With the government's "Albania one euro" initiative, one may rent a land, the market price of which starts from only one euro. Establishing and registering one's own business does not require prior government authorization and all sectors are open to foreign investors. It is also possible to have 100 percent foreign ownership with no restrictions on profit and capital repatriation.
Concluding his remarks, Albania's top diplomat in Kuwait said, "I would like to take this opportunity to extend my heartfelt thanks and appreciation to the higher authorities of the State of Kuwait and all the officials who contributed and assisted in ensuring the success of this visit. I would also like to express the full willingness of the Albanian government to further advance bilateral cooperation to the mutual benefit of both countries.
Read Today's News TODAY...

on our

Telegram Channel

click here to join and receive all the latest updates

t.me/thetimeskuwait