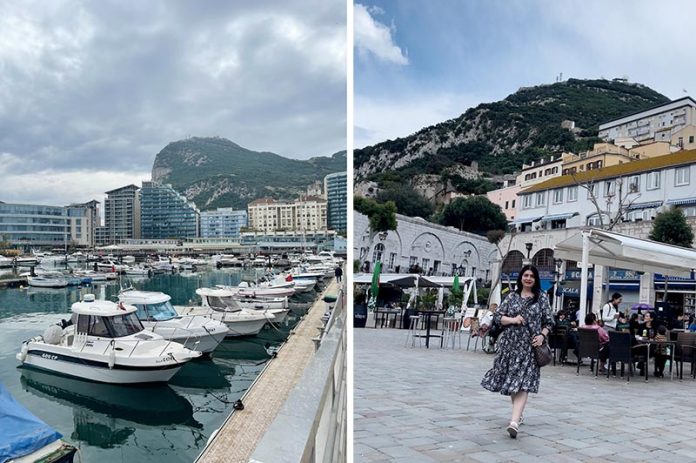 By Noura Khan
Special to The Times Kuwait
Gibraltar was always one of those destinations that piqued my curiosity and my desire to visit, due to its great history, its strategic location, and its special status, as it is considered a British sovereign land that intrudes into Europe and is claimed by Spain. Yes, Gibraltar is yet another relic from the days of the British Empire and one of the 14 overseas territories still part of Great Britain.
What always aroused my curiosity and made me want to visit this place is that it is outside the interests and map of most Gulf tourists, who tend to flock to well-trodden tourist destinations such as Switzerland, London and Germany. And if you asked anyone around you about what they know about Gibraltar, they would probably answer that it is a sea strait located between Morocco and Spain, and that it is currently a British colony.
But very few people know the history of this rocky mountain rising up from the Mediterranean Sea, a marvel of nature where the British remain juxtaposed today between an Arab-Islamic past and its current Spanish influences. Not many in our region also know that this tiny strip of land at the southern tip of Europe is a place of tourism par excellence, with several beautiful places that are ripe for adventure.
Gibraltar, a headland on the Spanish coast surrounded on three sides by the sea and an hour's drive from Spain's upmarket tourist attraction of Marbella, is home to over 35,000 people who are largely British but prefer to call themselves Gibraltarians. Being a frequent visitor to Spain, specifically Malaga, I used to see a lot of tourist companies organizing trips for foreigners and transporting them from Marbella and Malaga to Gibraltar. But when I tried one summer to register with one of them, I did not succeed, because the company informed me that I held a Schengen visa, and that entering Gibraltar required a special visa called the Overseas Territories Visa or a British visa.
Even though as a Kuwaiti citizen I could obtain a British visa online, they informed me that entering Gibraltar would need a visa stamped on my passport from the British Embassy in Kuwait. On returning to Kuwait and following a lot of research and correspondence on obtaining a visa for the British Overseas Territories, I was finally able to obtain one. I then set off on my trip to the 'Rock' in late April of 2022, starting from Spain. And, because I do not like to join tourist groups and buses, I decided to enter Gibraltar on foot from Spain.
It was the strangest travel experience for me. A border fence and a customs zone separate the Spanish territory from the British sovereign territory of Gibraltar. I drove my car to the Spanish customs area, parked it there, and with my small bag headed on foot to the Passports and Customs section where I got my passport stamped with an exit from Spain.
I then moved to another area in the building where a banner with the flag of Spain and a picture of a man walking indicated the way to Spanish territory of Gibraltar. Walking ahead I then saw the flag of Britain and the flag of Gibraltar along with the iconic red British telephone box indicating the British identity of the place. I thus entered on foot from Spanish territory that then changed to one of the British Overseas Territories.
As I continued walking down the main street, suddenly I saw the police putting up barriers in the middle of the road to stop traffic flow and all pedestrians gathered behind the barriers. I was ignorant of what was happening, but after a few moments I understood that a plane was about to land. Planes that come to Gibraltar apparently use the highway as the landing strip. Can you imagine that? There is no real airport, and the street is the makeshift airstrip!
I completed my way on foot, until I reached the hotel that I had booked into, and to complete the strangeness of the start of my trip, my five-star luxury hotel was a refurbished luxury cruise-liner. This was the first time that I experienced living in a giant ship that has been converted into a five-star hotel. The experience of staying on this luxurious cruise liner was that besides the opulent restaurants, spa and other trimmings, it provided a wonderful view of the most important landmark in Gibraltar, the eponymous 'Rock of Gibraltar'.
Not surprisingly, it was the first place I decided to visit. I used the cable car to go on the top from where you can have, on a clear day, panoramic views of Spanish coastal cities in Europe on one side, and, across the Mediterranean Sea, stunning views of the Moroccan mountains and the continent of Africa.
Incidentally, the ancient Greeks thought Gibraltar was the end of the world and many legends link Hercules, the legendary figure in Greek mythology, to this area.
There are many amazing labyrinthine caves in the 'Rock' that have been converted into a tourist attraction, as well as a Catholic church built in the fifteenth century and an artillery battery and underground tunnels built during the Second World War. No visit to Gibraltar would be complete without visiting the Nature Reserve that extends up the mountain and interacting with the Gibraltar macaques there.
An old legend claims that the British presence in the strait will end once the last macaque there is extinct. So, the British soldiers stationed there make it a point to pamper these mammals, feeding and protecting them. However, visitors should not feed the monkeys as there is a heavy fine of 5,000 pounds sterling attached to any such attempt.
The St Michael's Cave in Gibraltar, which dates back to the Stone Age and to legends that link it to the gates of the underworld, today hosts concerts, ballets and other cultural events in the Great Hall. There is a special show of music and lights that takes place in the cave several times a day, but prior reservation is required.
There are steps carved into the mountain rock through which you can explore the plant and animal life up close while enjoying the stunning surrounding scenery , but climbing these stairs requires a relatively reasonable level of physical fitness and is not suitable for those with a fear of heights.
A relatively new attraction that was only fully completed in 2018, is the Skywalk, which is indeed one of the top things to do when visiting Gibraltar Nature Reserve. Perched 340 meters above the Mediterranean Sea, the Skywalk is an incredible experience, that is, unless you are afraid of heights. If you can overcome your fear of heights you will be able to enjoy uninterrupted views in all directions.
One of the biggest fun activities on a trip to Gibraltar would be to join the exciting dolphin watching trip. These highly rated tours are undoubtedly one of the top things to do in Gibraltar for families, and are suitable for children of all ages. These marine wildlife adventures last approximately 75 minutes and include a thrilling ride on a specially designed viewing ship that sails alongside up to 200 dolphins.
One night during my stay in Gibraltar, a loud sound shook all parts of the room, so I went to the balcony to see where it came from and witnessed the landing of one of the planes in the public street opposite my room. I witnessed the scene of cars and people stopping every day from the balcony of my room while the plane landed in the strangest and most dangerous airport in the world.
In my Instagram @nourajtraveller you can find a special highlight for all the places I visited in Gibraltar that can help you plan your trip. And, do not forget to take with you British pounds for exchange, the euro currency is not accepted in Gibraltar.
---
Noura Khan, a Kuwaiti national, holds a degree in law from Kuwait University and has worked as a journalist prior to taking up a position in the government. In 2018 she started blogging on travel and has visited more than 57 countries since. She has more than 54K followers and her blog post @nourajtraveller is well appreciated for content and travel information. Noura writes exclusively for The Times Kuwait on her travel visits.
---
Read Today's News TODAY...

on our

Telegram Channel

click here to join and receive all the latest updates

t.me/thetimeskuwait