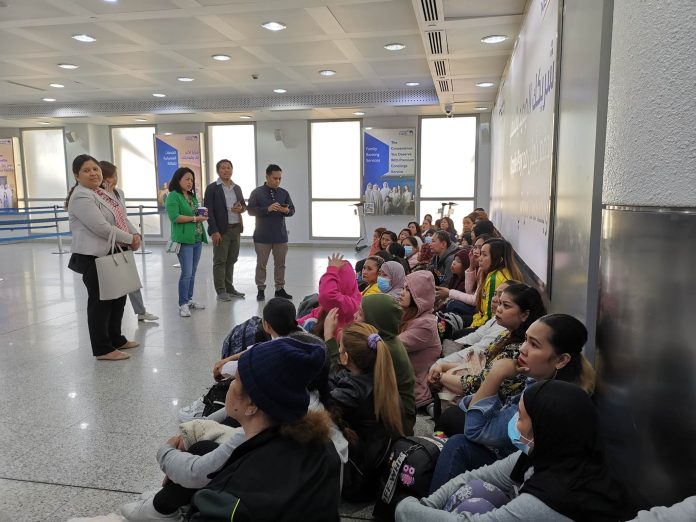 By Ricky Laxa
Staff Writer
---
 1,022 Filipino domestic workers were repatriated back to Philippines from January of 2023, and more are still waiting for their documents to process and are scheduled to return to Philippines stated Philippines Acting Labor Attaché Cathy Duladul in an interview with The Times Monday morning.
Duladul mentioned that the repatriation program of the Migrant Workers Office (MWO), Overseas Workers Welfare Administration (OWWA) in cooperation with the Embassy of the Philippines is an ongoing project of the Philippine government to assist Overseas Filipino Workers (OFWs) to return to the country. The process of repatriation is in cooperation with Kuwait Ministry of Foreign Affairs and Ministry of Interiors. "For the past two weeks the repatriation of Filipino workers has been persistent and continuous, it's almost daily that flights are scheduled regardless of the number of OFWs whose documents have been processed and cleared to leave the country" stated Duladul. Paulita Lundang, Manager of Dadabhai Travel said that it's more than six hundred and thirty-seven (637) domestic workers coming from the Philippine shelter and deportation department of Kuwait left from beginning of March and the rest till the 22nd of the same months are scheduled to leave the country. 
In a brief interview with Welfare Officer Genevieve Ardiente mentioned that all these flights have been funded by the MWO and OWWA in response to the government promise to OFWs to bring them home safe regardless of their current situation. Ardiente affirms that at present there are only three hundred and twenty-nine distressed workers housed in the shelter. "We receive ten till twenty domestic workers in the shelter on daily basis, many of whom are re-hires, new arrivals and those who did not finish their probation months and are refusing to work. So, the need for repatriation is essential to avoid congestion and that they can go home to their families" commented Ardiente. 
Janice Cainoy, Foreign Recruitment Agency Administrator said that the process on hiring applicants from Philippines must embrace tight measures and implement comprehensive orientation and training prior to deployment of workers. Philippine recruitment agencies must also be responsible and ensure the psychological readiness of the worker. "Most of these workers are not ready to work and are not physically or mentally prepared. The local training program also being implemented in the Philippines does not suit the situations in which workers find futile as their training were typical of hotel, yet they serve domestic or home clients" stated Cainoy.
These were just few points foreign recruitment agencies have stressed during meetings with Philippine officials who came to Kuwait yet till now no changes have been made on the policies. Local Training and orientation programs in the Philippines for domestic workers prior to their deployment must be adapted to the countries where they are to be deployed including the norms, traditions, culture, religion, law, and its society. These guidelines will provide a clearer picture of what is to expect from their places of work. 
The Philippines have temporarily banned deployment of first-time workers in in Kuwait due to the recent murder of a Filipina domestic worker who was found burned and buried in Kuwait. Till today the ban applies. 
Read Today's News TODAY...

on our

Telegram Channel

click here to join and receive all the latest updates

t.me/thetimeskuwait