I-T had on January 11 conducted searches across India including 17 locations in Andhra Pradesh and Telangana on Joyalukkas. IT officials have charged that the jeweller had suppressed sales and that there were irregularities in the form of buying old gold from customers.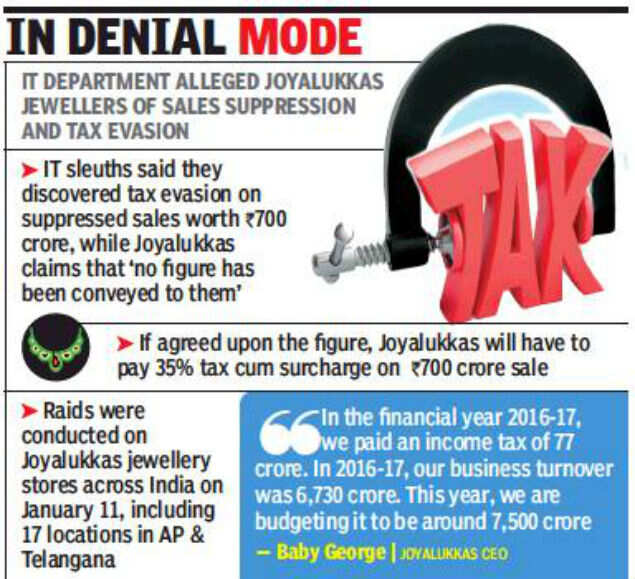 According to I-T sources, in one branch in Hyderabad, a stock of 200 kg gold was found, indicating the volume of business. Searchers were then carried out in the
Panjagutta
and Kukatpally outlets in Hyderabad as well as the showrooms in Warangal, Karimnagar, Nizamabad and Khammam in Telangana and Kerala and Tamil Nadu.
I-T sleuths are of the view that more wastage was shown than what happened and tax evaded. Joyalukkas was founded in 1956 and now has a presence in 11 countries including a chain of retail shops in West Asia.
Joyalukkas management stated that no figure of tax evasion had been arrived at. Joyalukkas CEO Baby George told TOI, "We haven't been served any demand notice by the income tax department so far. The case is still at an enquiry stage. After conducting searches, I-T has been calling for information from the various offices. We are cooperating with them completely in the probe. We are providing whatever information that is being asked for. I-T is the process of preparing the reports. No figures have arrived as yet. Purchases and sales accounts are looked into. We are a KYC and tax complaint company. This financial year, we have already paid advance tax of 52 crore."
Baby George added, "In the financial year 2016-17, we paid an income tax of Rs77 crore. In 2016-17, our business turnover was Rs6,730 crore. This year, we are budgeting it to be around Rs7,500 crore."